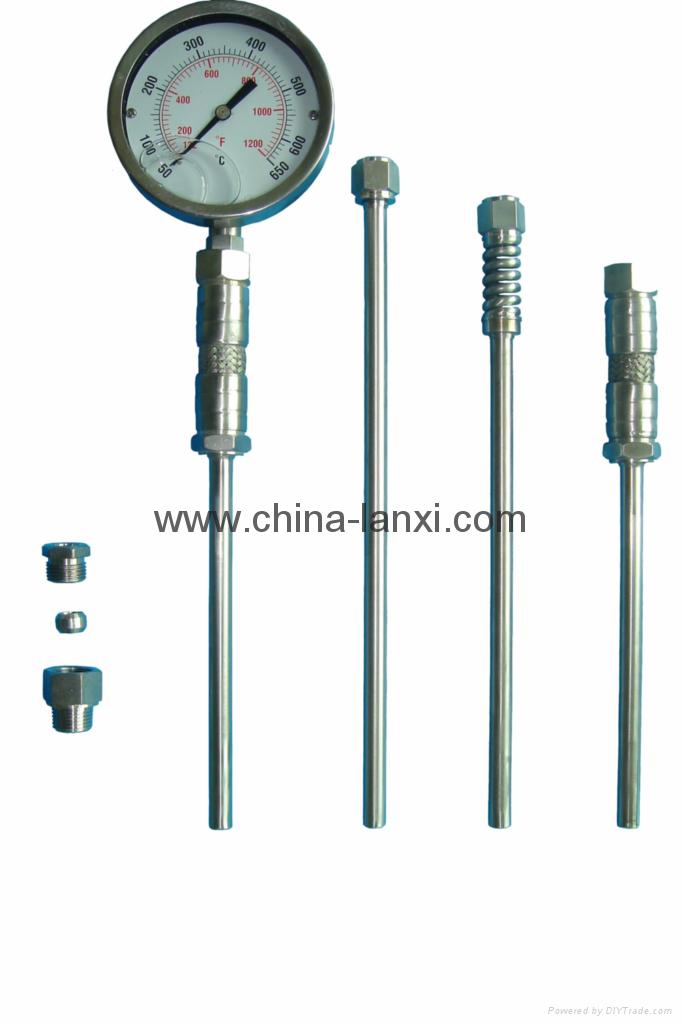 Exhaust Thermometer or Exhaust Pyrometers or engine thermometer
Model No.︰
LX-014-D
Brand Name︰
Lanxi of China
Country of Origin︰
China
Unit Price︰
-
Minimum Order︰
-
Product Description
Model NO.

Dial Size

Case:304 Stainless Steel

Screw

BY307

110mm

Φ6,Φ8,Φ10×L×I(L and I can be made according to the customer's demands)

-40+60℃,-20+60℃
0+120℃,0+150℃
0+200℃,0+300℃
0+400℃,0+500℃
50+300℃/-40+160℉
0+100℉,0+220℉
20+240℉,25+125℉
50+400℉,50+500℉
50+600℉,50+750℉


Bulb: Stainless Steel
1/2″ NPT
3/4″ NPT 1/2″ BSP
3/4″ BSP

BY308

Accuracy:±1.5%
Pointer: Adjustable, balanced, aluminum with black or red finish
Remarks: this kind of thermometers can be oil filled as shockproof function
Exhaust Pyrometers (anti-vibration)

Fig 6.1
Stainless steel case and stem.
Diameter of the case 100mm.
Temperature range: 0+600oC and +32+1100oF.
Standard threads: 1/2" BSP and 3/4" BSP to stem.
Length of the stem: 150, 200, 300 and 400mm.
Sensor: inert gas system.
Vibration damping filling: Silicone oil.
Vibration damping system: Spring (Model G) (Fig.6.1.) or Silent block (Model L) (Fig.6.2.)
Accuracy: Class 1.
ITEMS IN STOCK.


Specifications︰ Gas Filled Thermometers are manufactured to the highest standard for a wide range of uses and may be fitted to almost nay temperature indicating application. These instruments are ideal for remote reading panel installation, and can be provided with tube system length up to 100 feet. Being vapor actuated, they are not subject to indicator error due to ambient temperature variations along the tube system, and will give excellent reading both above and below ambient.
Advantages︰ Primary Competitive Advantages :
. Excellent and High Quality Control
. Prompt Delivery
. New Product
. Customer's Designs and Logos are Welcome
. Competitive Price
. Earth-friendly Product
. In a Variety of Designs
. Small Order Accepted
. ODM Accepted
. OEM Accepted

Export Markets︰ All over the world
Payment Details︰ T/T
Min Order︰ 1000
Related Products